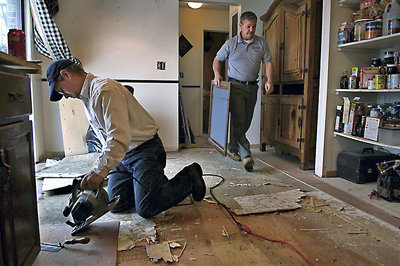 Let's face it, having to rely on someone for home repair that you don't really know to complete a task you care about is stressful. And it's certainly more stressful if the task is to be connected to a valuable asset like your home. You want someone who's experienced. You want someone that you'll feel comfortable around, whom you can trust.
You need someone;
To respond when you call or email requesting information.
To be engaged and articulate in discussing your needs.
To be knowledgeable, and give you the correct information needed for informed decisions.
To assist you in any evaluations of your specific issues.
To advise you as to the options available for best repair methods to employ for your situation.
To be qualified, licensed and properly insured to complete the work being considered.
To perform with expertise and quality methods all the work they do.
To follow through and stand behind any project they take on.
The Home Company is that someone. That guy. The one you can depend on to get it done right with a minimum of inconvenience.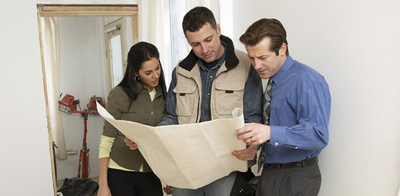 Professional – Reliable – Affordable
It all adds up to dedication to the craft we're engaged in and a commitment to great customer service. Because after 25 years of home repair and improvement, we know that sooner or later you'll need that guy again and when you do, we want to be the one you call. Here's a list of our repair related services:
Plumbing and Electrical Repairs
Plumbing and Electrical Installations
Appliance Retrofits
Wood Rot Replacement/Repair
Wall and Ceiling Repairs
Fence and Gate Repair/Replacement
Tile Repair/Replacement
Roofing Repair/Replacement
Door and Window Repair/Replacement
Masonry and Concrete Repair/Replacement
Patio and Walkway Repair/Replacement
Carpentry and Trim Repair/Replacement
Check out Our Portfolio of repair projects to get a look at just a few examples of the varied types of projects we do. Got a question about your home and something that needs attention? Contact Us and let's see if we can help.
We're local, professional, reliable, and always affordable.  Give us a call and put over 25 years of experience to work for you.
THE AREAS WE SERVE
Wherever you're located around San Diego, we're happy to discuss any repair project you're wrestling with. Please keep in mind though, for most smaller repairs that are limited in scope, we do try to stay within a 30 minute service area which includes in and around the following communities –
Carlsbad, Encinitas, Lucadia, Cardiff, Solana Beach, Oceanside, San Marcos, Elfin Forest, Vista, Rancho Santa Fe, Rancho Penasquitos, Rancho Bernardo
92007, 92008, 92009, 92010, 92011, 92014, 92024, 92029, 92067, 92075, 92078, 92081, 92096, 92127, 92129, 92130